Product Description
Kaldnes k1 bio media filter is a well-documented history in filter applications. K1 mbbr media is a kind of polyethylene bio filter media that has a specific wheel-like shape, with a cross-shaped central portion.It modified polymeric materials with the promoted additions of bio-enzyme, and k1 mbbr media has high surface area per unit volume and allowing for more space for bacterial colonisation. This kind of kaldnes k1 media also has a neat feature that allows more than just bacteria to colonise it. As other mbbr meida, K1 mbbr bio media often made as pure polyethylene white in colour. It allows for visual monitoring of the biofilm's condition.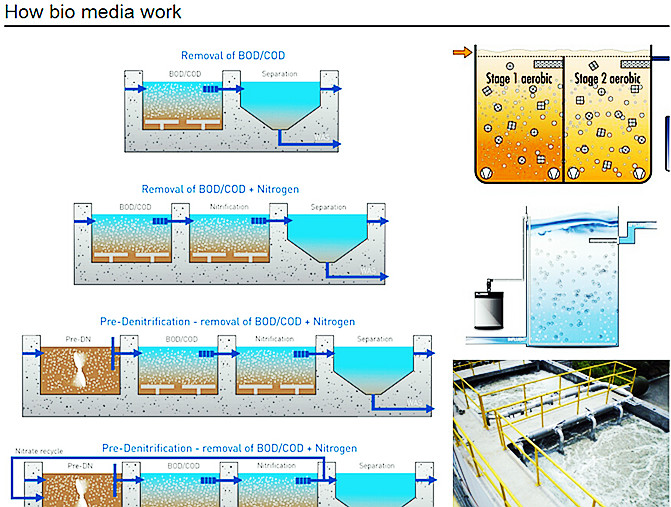 K1 bio media provides the maximum surface area necessary to allow beneficial bacteria to grow and remove ammonia and nitrites from your water. Removing ammonia and nitrites from your water is essential for healthy koi (fish). The kaldnes k1 media moves around in the filter chamber the bacteria go to work and start removing the ammonia and nitrites. K1 mbbr filter media can be used for pond filters, aquaponics, hydroponics, sewage treatment, and more. This kind mbbr bio media is slightly buoyant and perfect for mechanical or biological filtration and is available in 11*7mm,10*7mm or other special size request from customer.k1 mbbr media filter can widely used in aquaponics, aquaculture , hydroponics , ponds ,aquarium, biological treatment of wastewater reuse, and newly built sewage treatment factory of MBBR and BAF process etc.
MBBR Media Specifications:
Specification

Surface area

Packing numbers

Dosing ratio

Nitrification efficiency

Material

(mm)

(m2/m3)

(Pcs/m3)

(%)

(Gnh4-N/m3.d)

Ф12×9

>800

>630000

15-17

400-1200

HDPE

Ф11×7

>900

>830000

15-68

400-1200

HDPE

Ф10×7

>1000

>850000

15-70

400-1200

HDPE

Ф16×10

>800

>260000

15-67

400-1200

HDPE

Ф25×12

>500

>97000

15-65

400-1200

HDPE

Ф25×4

>1200

>210000

15-65

500-1400

HDPE
Packages:
| | | | |
| --- | --- | --- | --- |
| Container | 1*20GP | 1*40GP | 1*40HQ |
| Packed Q"ty | 28m3 | 59m3 | 68m3 |
Notes:
1. We can disign different packing according to your requirements.
2. Our factory can produce all kinds of mbbr media with different size or color.
3. All of our mbbr filter media made from virgin polyethylene, not recycled material that might be toxic!