Product Description
Uv Stabilized Polypropylene Bio-pac SF3 plastic media is is successfully operating in over 100 trickling filters. With over 300 mixing and redistribution points for both air and water per cubic foot of media, Bio-Pac is capable of redistributing wastewater every 2" of media depth.

This feature makes Bio-Pac ideal for shallow trickling filters.Bio-Pac SF#30 has also been used extensively in upflow anaerobic and aerobic submerged bed reactors. Since the media floats, use of an underdrain support is eliminated.Furthermore, Bio-Pac's unique shape serves as a foam breaker when installed in anaerobic reactors.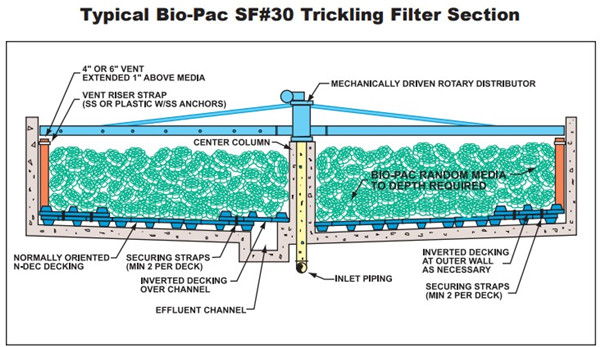 Media Characteristics:
• 30 ft2 /ft3 surface area
• 95% void ratio
• Manufactured of UV stabilized polypropylene
• Low installation cost
• Excellent for BOD reduction or nitrification
• Low minimum wetting rate, 150 gpd/ft2
• For bed depths up to 30ft.